---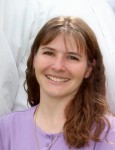 I was born in New Mexico and spent the first 14 years of my life there. Much of my family is involved or has been involved in education. I have four brothers and two sisters, and a multitude of nieces and nephews.
When I was a freshman in high school, my parents moved to Rexburg. I graduated from Madison High School, attended and graduated from Ricks College, and then obtained my bachelor's degree in music therapy from Utah State University. I was married two weeks after graduating from USU, and my husband, Ryan, and I moved to Kalamazoo, MI, so I could complete my music therapy internship. Our first two children were born there.
After four years in Kalamazoo, Oregon was our home for the next three, with our third child being born in Portland. We then moved to Monteview in 2003 and have been here ever since. Our fourth and final child was born in Idaho Falls, making our family complete with one boy and three girls.
Reading and music have long been a part of my life. The power of words fascinates and delights me and I enjoy helping students see the power in the written and spoken word. I also love to read, watch old movies, and listen to the wind in the trees.